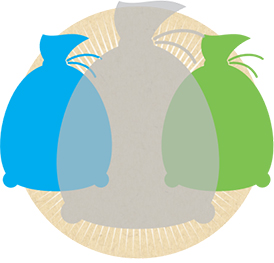 New 3-Bag Waste Sorting System
The 3-Bag Waste Sorting System (Blue, Green and Clear) is designed to make sorting waste at your business or in your apartment building more efficient than ever before. Download the new Sorting Guide to clearly understand where your waste should go.
2019 Fee Structure Updates
INDUSTRIAL, COMMERCIAL, INSTITUTIONAL (ICI)
$109.00 per metric tonne to landfill
$75.00 per metric tonne for sorted Recyclables and Organics
---
CONSTRUCTION & DEMOLITION
$50.00 per metric tonne if Non-sorted
$15.00 per metric tonne for sorted wood, shingles, concrete, bricks & rubble.
Construction & Demolition Waste
Construction and demolition waste is material that has been obtained during the construction, renovation or demolition of a building or structure. Properly sorted construction, demolition and renovation waste may be disposed of at our secure C&D site for a reduced tipping fee. This would include such materials as:
Asphalt shingles
Gyproc & drywall
Windows
Concrete & bricks
Toilets & plumbing fixtures
For more information or if you are unsure, please contact us before bringing your waste on site.
Contact


Visit us at:
100 Bill Slater Drive
Berry Mills, NB
E1G 5X5

Hours of Operation
Commercial Clients
MON: 7:30 am to 4:00 pm
TUE: 7:30 am to 4:00 pm
WED: 7:30 am to 4:00 pm
THU: 7:30 am to 4:00 pm
FRI: 7:30 am to 4:00 pm
SAT: 8:30 am to 2:00 pm
SUN: Closed
Residential Clients
MON: 7:30 am to 4:00 pm
TUE: 7:30 am to 4:00 pm
WED: 7:30 am to 8:00 pm
THU: 7:30 am to 8:00 pm
FRI: 7:30 am to 8:00 pm
SAT: 8:30 am to 5:00 pm
SUN: Closed
Statutory Holidays
Southeast Eco360 Solid Waste Facility will be closed on:
| | |
| --- | --- |
| New Year's Day | January 1 (Tuesday) |
| Family Day | February 18 (Monday) |
| Good Friday | April 19 (Friday) |
| Canada Day | July 1 (Monday) |
| New Brunswick Day | August 5 (Monday) |
| Labour Day | September 2 (Monday) |
| Remembrance Day | November 11 (Monday) |
| Christmas Eve | December 24 (Tuesday) - Closing at 2pm |
| Christmas Day | December 25 (Wednesday) |
| Boxing Day | December 26 (Thursday) |
| December 31st | December 31 (Monday) - Closing at 2pm |