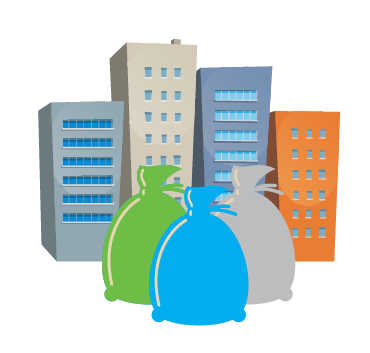 Every Bit of Waste Sorting Helps!
Even if your business or apartment building can only start by sorting one or two types of waste, this can still have a positive impact on cutting down total landfill waste. Download the new Sorting Guide to clearly understand where your waste should go.
2019 Fee Structure Updates
INDUSTRIAL, COMMERCIAL, INSTITUTIONAL (ICI)
$109.00 per metric tonne to landfill
$75.00 per metric tonne for sorted Recyclables and Organics
---
CONSTRUCTION & DEMOLITION
$50.00 per metric tonne if Non-sorted
$15.00 per metric tonne for sorted wood, shingles, concrete, bricks & rubble.
Construction & Demolition Waste
Construction and demolition waste is material that has been obtained during the construction, renovation or demolition of a building or structure. Properly sorted construction, demolition and renovation waste may be disposed of at our secure C&D site for a reduced tipping fee. This would include such materials as:
Asphalt shingles
Gyproc & drywall
Windows
Concrete & bricks
Toilets & plumbing fixtures
For more information or if you are unsure, please contact us before bringing your waste on site.
Contact


Visit us at:
100 Bill Slater Drive
Berry Mills, NB
E1G 5X5

Hours of Operation
Commercial Clients
MON: 7:30 am to 4:00 pm
TUE: 7:30 am to 4:00 pm
WED: 7:30 am to 4:00 pm
THU: 7:30 am to 4:00 pm
FRI: 7:30 am to 4:00 pm
SAT: 8:30 am to 2:00 pm
SUN: Closed
Residential Clients
MON: 7:30 am to 4:00 pm
TUE: 7:30 am to 4:00 pm
WED: 7:30 am to 8:00 pm
THU: 7:30 am to 8:00 pm
FRI: 7:30 am to 8:00 pm
SAT: 8:30 am to 5:00 pm
SUN: Closed
Statutory Holidays
Southeast Eco360 Solid Waste Facility will be closed on:
| | |
| --- | --- |
| New Year's Day | January 1 (Tuesday) |
| Family Day | February 18 (Monday) |
| Good Friday | April 19 (Friday) |
| Canada Day | July 1 (Monday) |
| New Brunswick Day | August 5 (Monday) |
| Labour Day | September 2 (Monday) |
| Remembrance Day | November 11 (Monday) |
| Christmas Eve | December 24 (Tuesday) - Closing at 2pm |
| Christmas Day | December 25 (Wednesday) |
| Boxing Day | December 26 (Thursday) |
| December 31st | December 31 (Monday) - Closing at 2pm |